haha, these are the weird poses my dear friend asks me to do.
the 3rd pic looks like i'm washing my hair, haha! x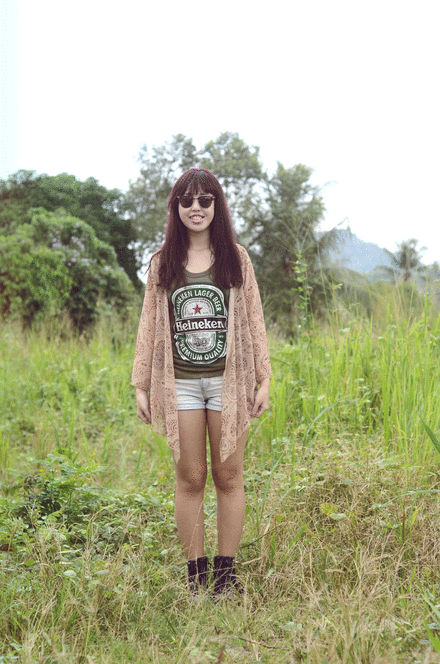 photo credits : YUU JIA
top : Sheer indie cardi from A.Avenue
bottoms : torn jeans from ZARA
shoes : Forever 21
i had really fun finding this location,
i showed it to my dad and he questioned with a furious face,
" where is that place?! "
haha.
i found it just in front of our car park.
it's just a real little space of green right beside the highway.
suits my outfit cause i'm going for more a chillax and comfortable look.
it had torn desk and big unwanted furnitures around and i loved that place instantly
I've always wanted to find places like these to do my photoshoots :)
and thanks to my forever photographer and my forever friend :)
thank you for being so nice all along and being there for me always !
meaning we do "things" together!
and go tru every pain it takes to be beautiful,
together! haha.
Domono Pizza's Chocolate lava cake is a must try !
it's warm and soft on the outside, and has a chink hint of melted hot chocolate that
brings liquid to your mouth !
what a nice mixture and the best i've ever tried i can say,
it's absolute perfection and i can never get my hands off it
when i tasted the first bite !
mmmmmmmm... I'm craving for more now.,,,,,,,,,,,,,,,,,,,,,,,
the next time I go to Domino Pizza, I am definitely calling
the Chocolate Lava Cake as a dessert in the menu.
so we had some glutinous moments together
sharing a medium sized cheesy double decker.
however me being the fussy princess as i am,
went to the counter to, well, i can't really say complain
to the manager about my slice of pizza that is soooo not filled with cheese.
so here's the conversation :
me : excuseeeeee meeeeeeeeee ! *shows my slice of pizza*
is this the cheesy DOUBLE decker ?
manager : *takes a look and swivel my plate*
oh yes, it is the cheesy double decker.
me : what ? how come it's soo much different than xxx ones ?
manager : oh ? are you not satisfy with it ?
i shook my head and said i wasn't and replied :
"so how? "
(haha, reminds me of my very gay art lecture, reis)
so yea, this is my EXTRA cheese of Double decker pepperoni pizza
that is no doubt, FREE OF CHARGE ! :3
look at that this close up of the super stuffed cheese they gave!
compared to the flat first order behind ! tsk tsk tsk
i was so pleased with the service,
at the same time i was somehow feeling *paiseh*
:#3
OH well ! now I can sleep in peace !
Goodnite folks !